Moonlight, Donmar Warehouse
reviewed for The Spectator, 15 April 2011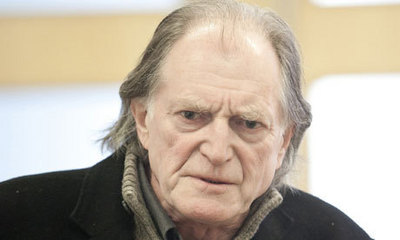 David Bradley in Harold Pinter's Moonlight
There's a moment in Moonlight, Harold Pinter's last full-length play, when Andy, a petty patriarch on a drab deathbed, accuses his wife of monopolising the love of his estranged sons. 'They always loved their loving mother', he rails, Lear-like. 'They helped her with the washing-up!'
Uttered with poisonous invective here by David Bradley, it's a reminder of Pinter's knack for locating fraught family dynamics in the most ordinary of domestic details, then presenting them with biting, bitter comedy. But although Bijan Sheibani's production is peppered with such great moments, there's plenty of stodge to sit through between them.


Moonlight has always been an elliptical text. It is a play about waiting, whether for death, for a family visit, for reconciliation, for meaning – hence the incessant comparisons to Beckett. But it's also a family drama, and thus its abstract nature is at odds with our natural urge to understand the full narrative, with the Schadenfreude and curiosity that emerges when we glimpse a window onto other families' dysfunction.
Pinter may be right to demonstrate, with this text, the futility of such curiosity. But in this production, what is billed as elliptical and mysterious seems merely formless, frustrating and slow. Pinter's texts are exciting because he refused to readily tell his audience exactly what goes on in them – he demands engagement, demands imagination.
In Moonlight, however, even basic bits of information are omitted, so you may have to look at your programme to discover that Andy's daughter, played by an elfin Lisa Diveney, is actually a ghost. It's easier to spot the autobiographical truths beneath the story of a seething curmudgeon, facing death without being reconciled to his sons.
Daniel, Pinter's son by Vivien Merchant, never forgave his father for leaving his mother, accusing him of sidelining her in his personal history for his union with socialite and biographer, Lady Antonia Fraser (although the marriage had probably been troubled for some time, not least by Pinter's prior affair with Joan Bakewell).
For all Andy's self-righteous rage, Pinter has a greater compassion for his sons, hopelessly playing fantasy games in which they imagine themselves at the heart of a public school network, cocooned in male solidarity, surrounded by elusive, substitute father figures.
When Moonlight premiered in 1993, it was hailed as a return to Pinter's early brilliance and ambiguity, a repost to the critical generalization that 'late Pinter' constituted merely cruder, political rants. But is drama that is explicitly a biographical statement really so different from drama that is explicitly a political statement? 

Sheibani's production is at its best when it narrows its focus to fiercely intimate relationships. He is helped by exceptional performances. Deborah Findlay is magnificent, archly sewing cross-stitch like a Norman widow as she endures her dying husband's accusations.
As her sons, Daniel Mays and Liam Garrigan develop a fast-paced, stichomythic back and forth that presses every drop of pain from Pinter's text. Mays in particular is outstanding, his clarity of gesture making him enthralling. Yet the detachment between each pair of characters makes this production stop and start like geriatric bus, requiring a new warm-up each time the action shifts. The deadpan delivery from the ghostly Lisa Diveney sucks even more life out of the production – although, proving that this dolour is a deliberate choice, she is impressively engaging in the one flashback scene in which she is, presumably, alive.
Moonlight is worth seeing for anyone who collects great performances by great actors. But there's no escaping the stifling heaviness of this staging. It carries a hard message: that reconciliation is rare and regret inevitable. On opening night, this was a message more effectively demonstrated off-stage than on. Pinter's widow, Lady Antonia Pinter was very much in evidence. Daniel Brand, who has changed his name, was nowhere to be seen. When Pinter died in 2008, the to had not spoken in 15 years.
The other irony of the press night was the presence of a few high-profile actors who have been vocal supporters of UKUncut's campaign for higher rates of corporate tax. As a programme note reminded us, Barclays Capital gives significant support to the Donmar Warehouse as Principal Sponsor. Fortunately, it doesn't seem that Barclays' opponents will be boycotting the fruits of its much-needed philanthropy.