Character assassination? The theatre takes on Trump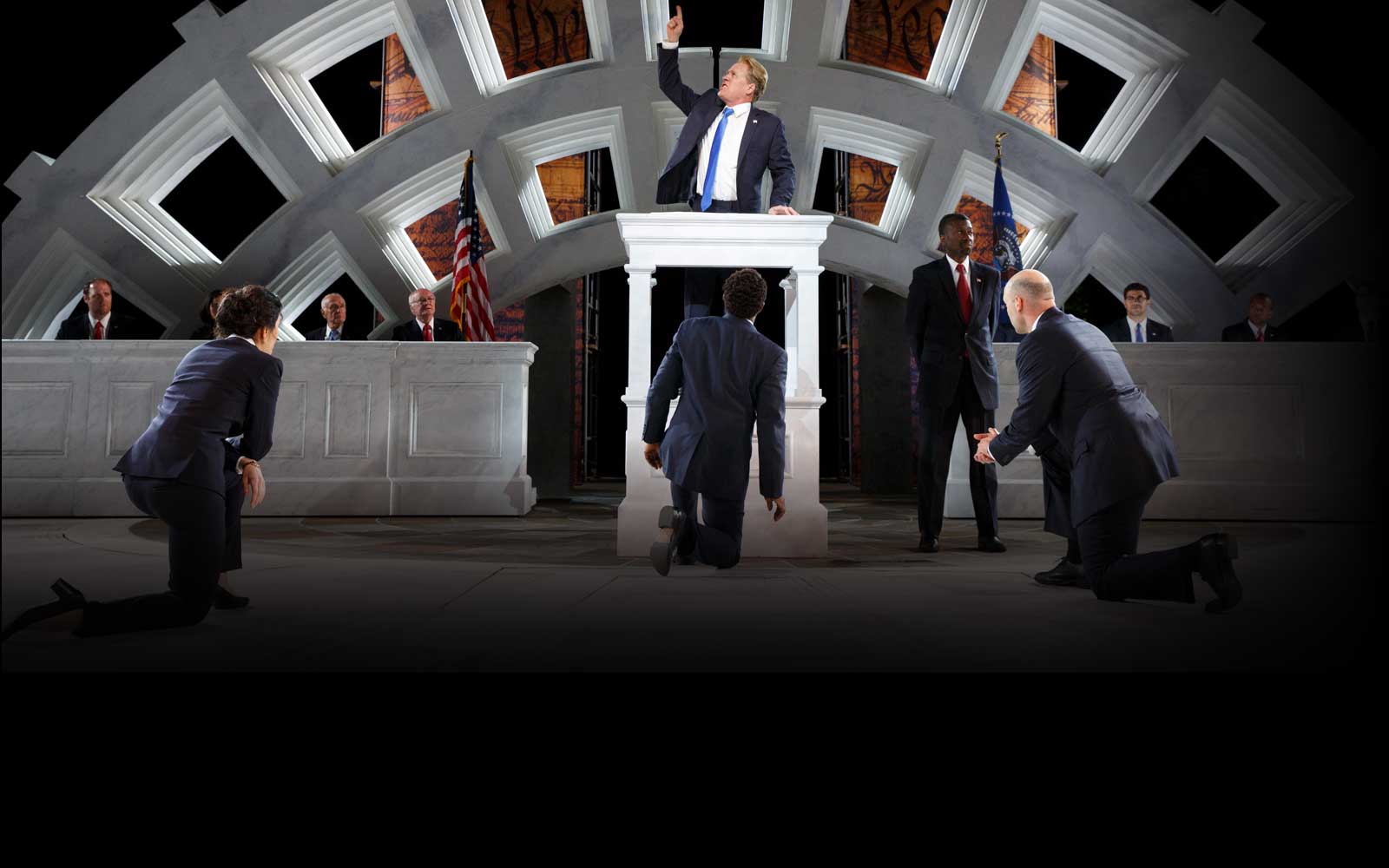 Does it matter that Eustis' production isn't perfect? Perhaps not. Censorship is always abhorrent, and the reaction to the Public Theater this week certainly looks like censorship: a president's princeling pressuring state bodies to cut off the voice of an opponent, to defund democratic art. A commercial partner tacitly instructing a group of artists to reflect their sponsor's brand values. That businesses which sponsor the arts should have no influence over content would seem a prerequisite for such relationships.
Last month, the oil company BP strongly denied to me allegations it had sought curatorial powers over a sponsored exhibition at the British Museum. Yet the issue remains fraught, on both sides. As corporates expect theatres to "reflect their own values", theatres expect their sponsors to do the same. Delta, for instance, also sponsors London's National Theatre: the playwright John Donnelly, currently under commission to the National, has responded to the Caesar controversy by asking it to cut its own ties with the American company. Speaking on Wednesday, Donnelly told me: "I would strongly object, under the current circumstances, to Delta being associated with a production of mine."
Yet this latest incident is also emblematic of a cynical culture war. From Andres Serrano's 1987 "Piss Christ" to the 2008 work of Aliza Shvarts, a Yale student whose senior art project allegedly filmed her uterus undergoing monthly abortions, radical artists with an eye on fame have sought to provoke the GOP establishment; and Fox News has regularly taken the bait. In New York, such controversy attracts as many donors as it scares away.
In an interview with the New York Times this week, Eustis cast the same point in more heroic language. In the hours since Julius Caesar lost its corporate funding, he revealed, "there are an awful lot of people who have stepped up, without being asked, to express solidarity with us, in emotional and financial terms, because the stand that we've taken about freedom of the art, freedom of speech, the ability to do provocative work, the ability to do work that speaks to the real issues and anxiety of our time, is something they support." In other words, New York's patrons of the arts have deep pockets and will happily pay to keep Trump on the defensive.
The city's students will be grateful to them. Shakespeare in the Park is noteworthy for offering free tickets; it is a cult institution to the loyal fans who each summer brave hour-long queues or the hazards of a lottery system. The Public Theater's year-round work, based in its five-stage East Village building, is open to audiences at $20-$60 per ticket, a good $100 less than equivalent seats in Broadway venues. It is this accessibility, along with its solid record for artistic excellence, that makes the Public the closest thing in New York to a European-style national theatre.
The Public therefore has the inbuilt longevity and financial confidence to live up to the best of its artistic mission. But smaller non-profit theaters are more concerned about the dangers of a denunciation by Fox News. "For us, getting a single corporate sponsor makes all the difference between being able to open our doors each year," says one artistic director who asked to remain anonymous. "We can't afford to be quite as brave. And if places like ours close, there won't be anywhere in New York you can experience a professional play for less than $100."
This isn't the first time the Trump family have taken a New York theatre to task. Back in November, vice-president Mike Pence celebrated the Trump team's election victory with a visit to Hamilton, the stage musical that lionises self-made founding father Alexander Hamilton. The show's racially diverse, LGBT-friendly cast made their concerns about Pence's social record politely clear at the curtain call; Pence adopted a patrician pose, telling a reporter, "I nudged my kids and reminded them, that's what freedom sounds like." But Trump himself erupted in anger over Twitter, lamenting that "the Theater must always be a safe and special place".
It is certainly a duty of art to thus unsettle the powerful. But theatre needs to be able to defend itself when the stakes get high. New York artists are easy targets for the Trump base. Unlike TV satire, theatres have a limited fan base of their own; it's easy to tell voters in Alabama that New York's latest art work is degenerate and violent if they are unlikely ever to see it for themselves. This week the administration redoubled its attack on the Public. On Wednesday morning, Trump Jr tweeted again, implying a cultural link between Eustis' willingness to depict his father's murder and the shooting of congressman Steve Scalise in Virginia.
History shows that nothing shuts down a theatre quicker than an accusation it has incited real life violence, however tenuous. True, censorship can still be resisted. Before he hit Broadway, Leveaux spent the 1980s working in the German Democratic Republic: he recalls how "many actors took to the stage at curtain call to speak up for change. The government — sponsors of a totally state-subsidised theatre — found this inconvenient. So they banned the speeches. As a result the actors started to stand on stage in complete silence. An even more combustible and deeply uncomfortable kind of eloquence cheered by the audience."
If American artists are turning to the former East Germany as a model for future artistic resistance, however, their prognosis for the Land of the Free is surely pessimistic. Perhaps for some this is a sense of victimhood too willingly shouldered: Eustis and his Public Theater will be fine. But each time the Trump family or their followers harass a high-profile theatre, lower-budget, more precarious institutions feel the chill.
Pages: 1 2