Book Review: White is for Witching
reviewed for The Times Literary Supplement, 17 July 2009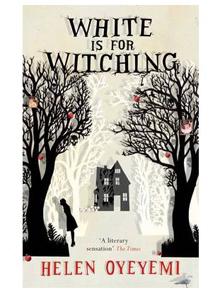 WHITE IS FOR WITCHING 192pp. Picador £14.99; 978 0 330 45814 6
by Helen Oyeyemi
Miranda Silver cannot stop eating chalk. It scratches her throat and hurts her stomach, but still she eats it. She moves on to plastics, paper, fabric – anything except regular human food. Her father, a former food writer now running a shabby Dover guesthouse, tries to divert her appetites by disguising gourmet food as the butchered body parts she also craves. He fails, and she starts to consume herself from within.
Meanwhile, Miranda and her twin brother Eliot slip into silence as they mourn the death of their mother, a photo journalist killed on assignment in Haiti. The voice of the guesthouse is left to speak for itself. Outside, the town of Dover seethes with racial unrest, its immigrants and asylum seekers harassed and driven to suicide. Miranda's compulsions might seem the natural result of grief and anorexia, were they not accompanied by reports of local hauntings that cause the staff to flee the guesthouse and prefigure the deaths of local young men.
White Is for Witching, Helen Oyeyemi's third novel, is a tale of alienation, magic and memory. Miranda flits through its pages, beautiful, pallid, doomed, entrancing in her melodrama, but loosely drawn, impenetrable even for the most dedicated reader. At Cambridge University, she is "the girl you see once, and then she is nowhere to be found. The girl who does not appear in the crowded room". She frustrates the reader in much the same way, fading away in Oyeyemi's overcrowded prose, an emblem rather than a character, a Miranda to be wondered at but hardly to be loved.
Oyeyemi has an eye for detail and a talent for metaphor: early on, an argument between the twins becomes "a stupid one that opened up a murky little mouth to take in other things". Cambridge is richly drawn: it is a place where freshers pair cheap cocktail dresses with ill-fitting academic gowns, where the all-night fast-food van makes a fortune from drunken students and the stateschool students feel menaced by the codes of public-school drinking games. A scene in which the Dean of Miranda's college awkwardly but sympathetically explains that the college is not able to make provision for her ill health, despite her intellectual merits, is particularly sharp.
Such brushes with reality are rare in a novel that overdoses on illusion and symbolism. As a story about mental illness, it serves as a meditation on literary traditions of the unclean and otherworldly, but offers little by way of sympathetic understanding. Indeed, Miranda's exoticism estranges her from the reader, with hints of her vampirism and suggestions that she may be a demonic succubus. This excessive mystery-making is matched by the excesses of Oyeyemi's often overwrought prose.
Since being hailed as a literary wunderkind for her first novel, The Icarus Girl (2004), Oyeyemi has grown more self-indulgent. Yet her language still has a raw brilliance, and she allows her story to develop with a fine sensitivity to tempo. White Is for Witching may lack the taut concision of her earlier novels, but it is further proof of a literary talent that is yet to emerge fully.
Tags: Book Review