Music Review: Philip Glass in New Haven, Sprague Memorial Hall
reviewed for The Spectator, 30 June 2010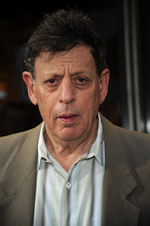 Philip Glass doesn't approve of intervals. Last week, at Yale University's Sprague Memorial Hall, the prolific composer gave a preview of what audiences in Dublin, Edinburgh and Cork could expect from his piano performances a few days later. He starts by declaring that pauses in performance "damage the concentration" – and he ended it in front of an audience both entranced and exhausted by the musical equivalent of an optical illusion. For ninety minutes, Glass barely allowed a moment of silence to indicate where one piece ended and another began.
His performance stands in a long East Coast tradition of using smaller towns – in his case New Haven, Connecticut – as a testing ground before performance on grander venues. Even then, some in the audience paid up to $1000 dollars to touts for the rare chance to attend a Glass premiere. His special treat was his own gleeful venture to select works written throughout his career, sometimes even decades apart, and weave them together to create much longer tapestries of sound.
Result? Radical re-workings of Glass' celebrated Études, diverse variations originally composed as an exercise in the range and variety of the piano, and of his Four Metamorphoses, a compilation of film music. The only jarring moment was the sudden introduction of the spoken word, with Glass' setting of the Vietnam War poem, Wichita Vortex Sutra, a cult invocation of peace by his mentor, Allen Ginsberg. The poem is acutely American – Ginsberg ritually recorded it in the exact midpoint of the American mainland – and it will be intriguing to hear what Dublin audiences make of it.
Earlier on Sunday he had joined with choreographer Lucinda Childs to pay tribute to their late collaborator, the instillation artist Sol Lewitt, who specialized in confounding the viewer with his optical illusions. Lewitt, Glass mused, understood John Cage's mantra, "the audience completes the work". Glass' music plays tricks on the ear just as Lewitt's imagery plays tricks on the eye. An audience member fresh from a recording of Glass' 1979 piece Dance, plucked up the courage to ask the great man himself, "was there a chant in the background – I thought I heard singers chanting "Crazy! Crazy! Crazy!" "No", chuckled the composer, "that was just personal for you. But that's the point."