Protests push much-needed philanthropy away from the arts
written for the Financial Times, 20 May 2017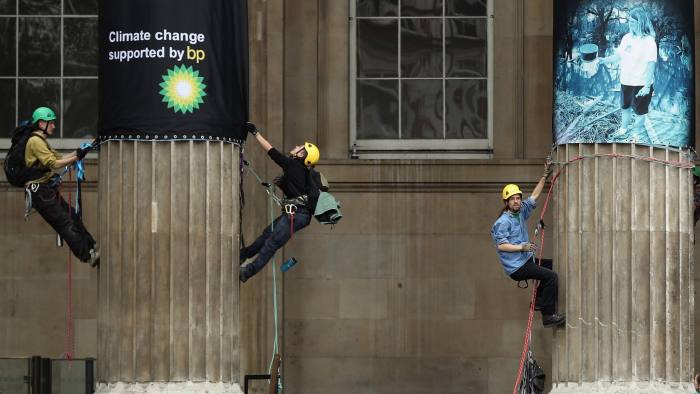 If you went down to the British Museum last weekend, you were in for a big surprise. Activists from the Art Not Oil group popped up in the museum's Great Court to stage a performance protest against BP's sponsorship of its exhibitions. Sporting glittering bow ties, placards and wads of cash, the organisation proceeded with a skit entitled "Who Wants to Pay a Billionaire?" To embody the persona of the hated corporation itself they could come up with no less meretricious trope than a lingerie-clad woman, swathed in furs for which someone else had paid.
That intervention marked the British culmination of a fortnight's global protests against fossil fuel merchants — the Global Divestment Mobilisation. Visitors to the Total-sponsored Louvre in Paris left delicate origami birds behind them, symbols of our ecosystem's fragility. Young women at Amsterdam's Van Gogh Museum processed carrying white shells — Royal Dutch Shell sponsors the museum — before ceremonially staining their own lips with dark oil pooled in each shell's upturned hollow. In anti-capitalist protest, as in all else, the British never seem as stylish as their Franco-Dutch cousins.
UK divestment activism continues to focus on BP and its relationship with major cultural institutions. The company sponsors four big organisations: the British Museum, the Royal Shakespeare Company, the Royal Opera House and the National Portrait Gallery. BP's 26-year investment in the Tate museums, however, came to an end last year. BP blamed the falling oil price: with 20 per cent of its own workforce being downsized, it would hardly have been ethical, BP's leaders argued, to fund art instead of paying staff. Art Not Oil credits its own sustained pattern of protest, including a 25-hour occupation of Tate Modern's Turbine Hall. The oil price has now risen again and so have BP's profits. But while the oil and gas company stressed to me this week that they are always open to revisiting their investment relationship with the Tate, the Tate declined to say the same.
If protest pushes BP away from its philanthropic commitments, we will all be the losers. Government cuts to the arts have continued unrelentingly over the past seven years — many activists on the left, who oppose corporate involvement, are often the first to lament this. Those most at risk are regional museums, which have borne the brunt of shrinking local government budgets. A report issued last month from the Museums Association showed that local authorities in England have cut spending on museums and galleries by 31 per cent since 2010; figures in the devolved nations are even higher. BP's visual arts sponsorship addresses this, increasing regional access to London-based collections. Its work at the Royal Opera has been led by the "Big Screens" project to transmit live performances nationwide.
BP's critics make two claims. First, that the company uses its financial leverage for censorship: this is demonstrably untrue. At the Royal Shakespeare Company, also a target of protests last month, the Mischief festival is about to stage Matt Hartley and Kirsty Housley's Myth, a polemic against human complicity in climate change. Art Not Oil has previously pointed to an email sent by a British Museum employee to BP's reps, which asked to check that the company had "no objection" to the acquisition of a painting for a BP-backed exhibition. But as an ethics review demonstrated, the issue was that BP had originally earmarked a specific fund for a new commission — laudably allowing the museum to employ a working artist. To suggest this email constituted "inappropriate influence" by BP is misleading.
The second claim is that BP uses philanthropy to launder its reputation. (The academic Mel Evans calls this "art-washing".) Reputation management is the object of corporate sustainability programmes the world over. It is unlikely, however, that any of us will be forgetting BP's darker moments anytime soon (Deepwater Horizon anyone?). Meanwhile, its arts programme nourishes critical thinking. Pop down to the RSC this year — perhaps on a £5 BP scheme for 16-25 year olds — and you'll think more, not less, about the future of the planet.
The irony remains that the anti-capitalist groups which criticise corporate philanthropy only make the arts less accessible to all. British museums remain an exception in Europe by offering free entry to most permanent collections. In the face of another round of cuts, the Museums Association has warned that this longstanding principle is in danger. If levels of protest continue to make corporate sponsorship more hassle than it's worth, we may scare big sponsors away just when we most need them.