How To Be An Other Woman, Gate Theatre
reviewed for The Spectator, 6 September 2010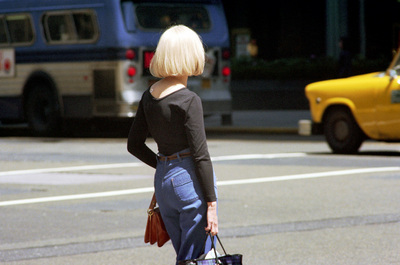 There's a moment in the Gate Theatre's new devised play, How To Be An Other Woman, when an actress slowly mimes reaching for a book and ostentatiously flipping it open on a crowded bus. She tells her companion that she's reading Madame Bovary. The audience isn't fooled. We can see that she's posing with a stiff sequined evening bag, the flap held open like the cover of a book.  It's the perfect visual metaphor for the frustrations of Charlene, a young secretary who doesn't know which type of woman she's supposed to be, but knows that, whether the paradigm is La Dame Aux Camelias or Modern Talking's "New York City Girl", it's the costume that confirms her in the role.
Director Natalie Abrahami has adapted a short story from Lorrie Moore's Self-Help collection, about a New Yorker who finds herself involved with a married man. The resulting production, however, is not so much concerned with adultery, as it is with the ways in which we appropriate different personae – or they appropriate us. Charlene watches herself become an "Other Woman", so, like the blighted love child of Nina Simone and Alexandre Dumas, it's not long before she's spending nights lying in wait for her lover, arranged languidly on her bed covers "like a lonesome queen" and wondering if she should pin an orchid to herself. Meanwhile, she's haunted by a chorus of women defined only by sun glasses, flared nostrils and ski poles, the whole sisterhood of affluent wives, endowed by their uniforms with military righteousness. The Wife's presence is keenly felt even when she leaves her clothes to stand in for her, as becomes clear in the pivotal scene in which Charlene explores the Wife's wardrobe. In a delicious display of creative stagecraft, thanks in part to designer Samal Blak's efficient set, the cast transform a simple row of coats and shoes into a visual sequence that is as refreshingly elegant as it is menacing.
For in Abrahami's production, costume is personality. So much so that throughout the performance, the ensemble of four continue to fluidly exchange roles, passing items of costume between them like relay batons to mark the transition. The cast, uniformly strong, pull this off with an infectious playfulness, although the game has the disadvantage of simplifying all the characters involved: Charlene's lover is the cardboard cut out of a deceptive cad, faceless beneath his Trilby, and Charlene's adolescent desire to act cool when her lover reveals that he's married, believable as it is, could sustain further development, not least because it marks the point where she is most morally unsympathetic. At such moments, Abrahami choses to emphasise the comedy, and it serves her well. How To Be An Other Woman is a thoroughly witty play. Lorrie Moore's language is by turns sharp and bittersweet, but always drenched in the terminology of an anxious consumer culture. So when her protagonist becomes disenchanted with the married man, "Love drains from you, taking with it much of your blood sugar and water weight." With lines like that, it would have been hard to go wrong. Yet creativity of the Gate's production propels it far beyond the obvious opportunities provided by the text. The result is a play as intelligent as it is effervescent.