Design For Living, Old Vic
reviewed for The Spectator, 22 September 2010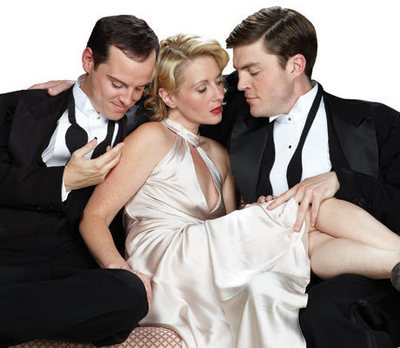 The trouble with the Old Vic's revival of Noel Coward's play about Bright Young Things is that while the three principals are certainly Young, and may be rather ambiguous Things, there is very little that's Bright about them whatsoever. Gilda, a wealthy but bohemian interior decorator, cannot decide whether she is more in love with Otto, a promising painter, or Leo, an increasingly successful playwright. While she boomerangs from bed to bed, Otto and Leo struggle to resolve their own passionate relationship. And though Design For Living proves a delightful romp through the trials and tribulations of this 1930s ménage a trois, there's precious little psychological substance to this masquerade.
Moments of sheer luminosity come from the playful pairing of Tom Burke's Otto and Andrew Scott's Leo. Scott's one-note petulance grates somewhat in the first act, but develops into a deliciously mercurial portrait of a boyish playwright enjoying the superficiality of success. His drunk scene with Otto, thanks to Burke's perfectly comic physicality, is delicious.
But the play's plot rests on the decisions of Lisa Dillon's Gilda, who sadly fails to convince. In her defence, it is difficult to portray a rounded character when all of Gilda's scenes present her at a moment of histrionic crisis – quickly running out of physical vocabulary for frenzy, Dillon is reduced to waving her bony arms around like wooden salad forks wading through water. Leo and Otto, both artists, insist throughout the play that Gilda's is the greatest critical mind, but in Dillon's breathless portrayal there's scant evidence of rational faculties.
The real charisma comes from Angus Wright as Gilda's avuncular friend Ernest, whose magnificent performance provides the play's touch of tragedy. For much of Anthony Page's production, the play revels in its own amorality, but Wright's final revelation of how much chaos his friends have caused him suddenly grounds the comedy in greater substance. Design For Living is not short of such captivating moments, but in a three hour production, they feel few and far between.