Two Ados
Much Ado About Nothing, Shakespeare's Globe; Much Ado About Nothing, Wyndham's Theatre
reviewed for The Spectator, 2 June 2011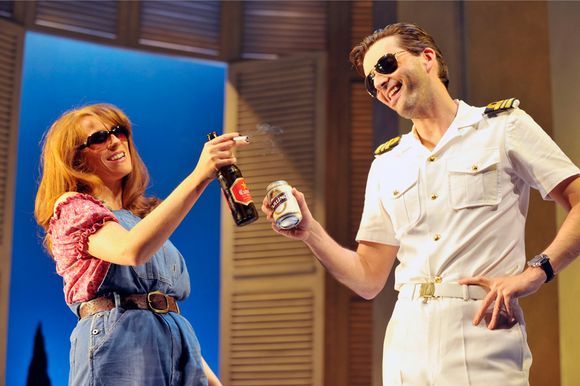 Like most Shakespeare comedies, Much Ado About Nothing is often performed as a garden party fantasy of Merrie England – so it's a treat to see two major productions both committed to restoring the Mediterranean flavour of this hot-blooded piece, which Shakespeare actually set not in Stratford, but Sicily.
At the Globe, Jeremy Herrin strews the stage with oranges and Moorish lattice work. Amidst the almost pagan street festival, this really is a place where a sun-addled youth might blindly search for a metaphor to describe his unfaithful lover and find it to hand in 'a rotten orange'.
Meanwhile, across the river at Wyndhams theatre, Josie Rourke sets her rival production in 1980s Gibraltar (Although, when Don Pedro's soldiers march in victorious from the Falkland islands, you'd be forgiven for taking their aviator glasses and car salesman navy uniforms as evidence we're in Miami with Baz Lurhmann.)
It's a smart move that makes sense of both the exuberance and melodrama of Shakespeare's play: by night, Beatrice and Hero wear Thatcher masks and rave it up to the strains of Wham! but by day they don black lace mantillas for sombre mafia-style funerals.
With the much hyped-pairing of David Tennant and Catherine Tate, Rourke's production is a highly polished comedy expertly designed for box office success. But for all the scrumptious visual gags, her production suffers in skating over the darker instincts and lyrical sufferings of Shakespeare's characters.
Over at the Globe, Herrin's 16th Century version can be incoherent and distractingly busy, but it is made transcendent by the unstinting emotional honesty on show. This is a play, after all, about the absurdity of the obstacles men and women create for themselves in order to prevent their own happiness.
The key to each production lies in the pairing of Beatrice and Benedict. David Tennant is as consummate a performer as ever, combining his usual effervescence with an uncharacteristic coarseness: an apt reminder that this sworn bachelor is as much a soldier in barracks as he is a wit. Catherine Tate has a great time with the slapstick physical comedy, but she lacks the emotional
vulnerability that Eve Best reveals in the same role at the Globe.
Pages: 1 2