Ghosts at Home, Manchester
reviewed for The Times, 25 November 2016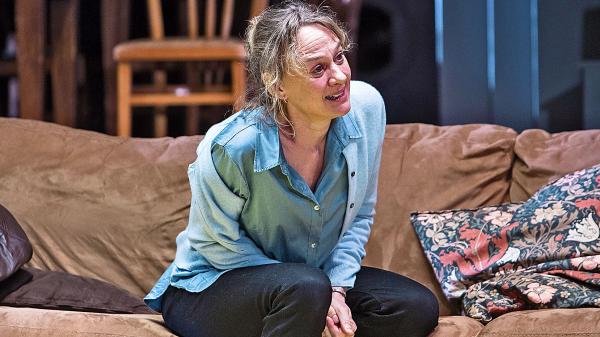 Niamh Cusack is one of my favourite actresses. The intensity of her work will burn your retinas, yet never obscures her light traces of humour. In Polly Findlay's Manchester Home production of Ghosts, Cusack turns Ibsen's 19th-century widow, Helen Alving, into a fully contemporary yummy mummy in need of a shrink. Whether it's the toes of her yellow cashmere socks, or the crook of her shopping-wielding arm, there's always something twisted, contorted about her. The effect is electric.
Catch sight of Johannes Schütz's airy, sneaker-strewn set and it's obvious this isn't Ibsen as you know it. Schütz is a big name in Germany, and German designers nowadays like to dismantle their sets like Russian dolls, the removal of each screen revealing another hidden room. The ghosts of Ibsen's play lurk in the side rooms of Helen's house. In this production they can almost be seen — if only we could just get a wider angle on the dining room at the back, or the kitchen at the side.
The chief ghost, of course, is Helen's dead husband, whose legacy turns out to be less lustrous than it seems. Helen is masking the stench by founding a children's home — Findlay is particularly good at staging the gentle hypocrisy of upper-class philanthropy. David Watson's adaptation is hyper-aware in its modernity. "Orphanage?" queries one character of Helen's project. "All right, children's home."
However, what prevents this from becoming a five-star, landmark production is that Watson can't entirely transfer Ibsen's concerns to today. Helen confides in her pastor that her marriage was unhappy; he responds by reciting Presbyterian platitudes. At a moment of high drama, Helen declares: "It's God and his laws I'm starting to think are behind all the misery in this world." Radical in 1881, perhaps, but less when spoken by Mrs Boden Catalogue 2016.
Where Findlay has lucked out is with the casting. It's not just Cusack; Ken Nwosu's charming, anxious grin introduces a compelling performance as her vulnerable son. Norah Lopez Holden is perhaps the biggest find. Fresh out of Rada, where Findlay was hired to direct her in a final-year show, she injects humanity and humour into the often slimmer role of home help Regine. Jamie Ballard enriches our repressed Pastor, and William Travis enlivens Regine's scapegrace father — or is he? This deserves a longer life.