The Rivals at Bristol Old Vic
reviewed for The Times, 21 September 2016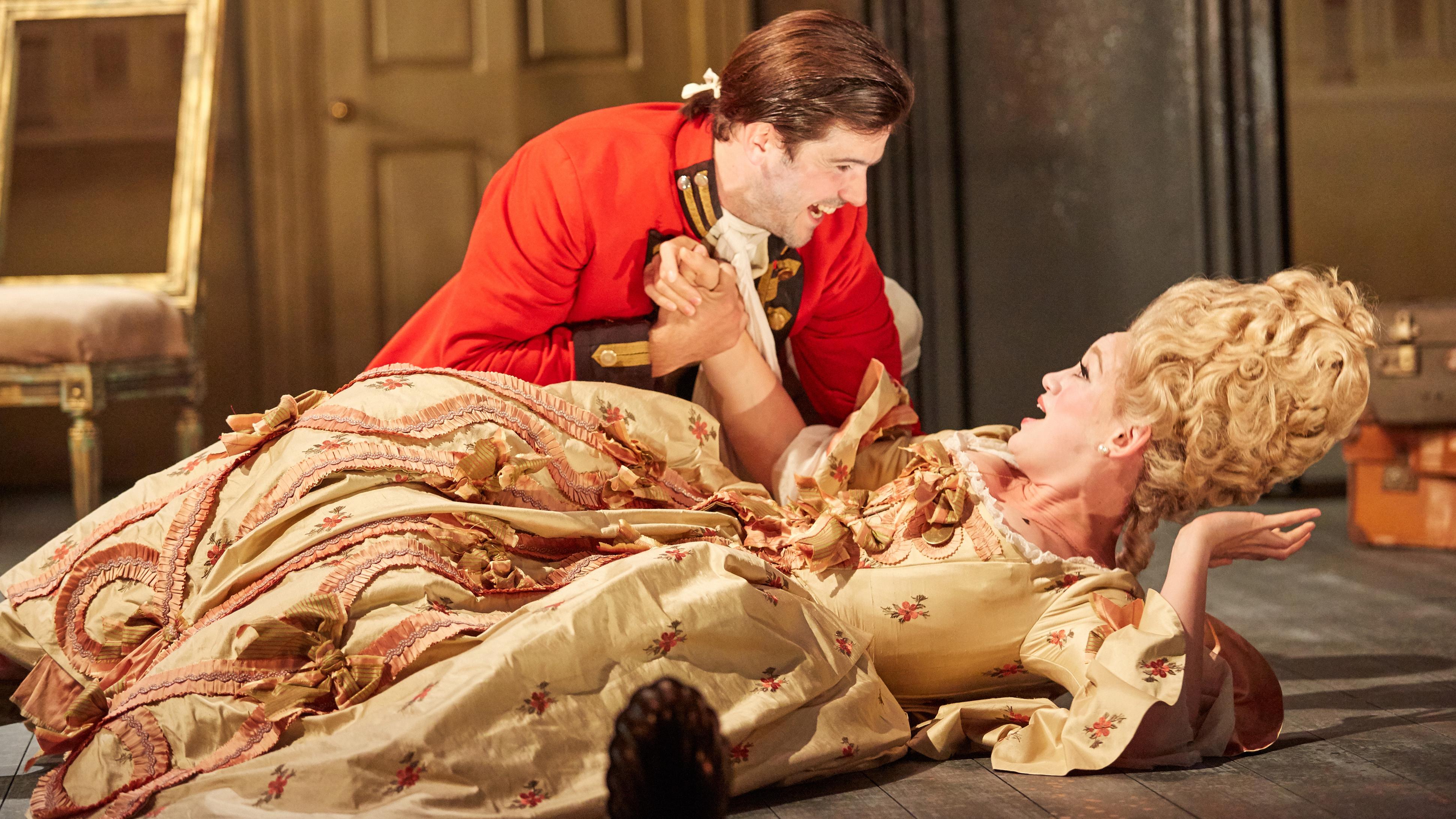 Sheridan's 1775 comedy, The Rivals, centres on the trials and tribulations of Miss Lydia Languish. It's a tough cookie of a part. As her name implies, Lydia is a drama queen, convinced by romantic novels that the course of true love never must run smooth.
When eligible bachelor Captain Jack Absolute spots her, he's aware that his advantages — the approval of her aunt, the grand connections of his father — will only count against him, so he woos her as penniless Ensign Beverley. Think She Stoops To Conquer in reverse. It's easy to play as 2D satire; harder to inject with credibility and heart.
Dominic Hill's production, therefore, has lucked out with Lucy Briggs-Owen's tour de force as Lydia. It's a virtuoso display of vocal technique: Briggs-Owen's speech patterns will send you into hysterics as she recites Sheridan with the unmistakable intonation of a public-school girl who's watched Clueless too many times.
Amid the vocal fry and eye-rolling, however, there's vulnerability. Where other Lydias have been hard to love, Briggs-Owen humanises the pain of her humiliation, the shock of Absolute's duplicity. If it doesn't quite mask Sheridan's misogyny, Hill's production balances Lydia's self-indulgence well with that of Nicholas Bishop's Frankland, the "nice guy" who drives her friend Julia to exasperation with his tests of her love.
Elsewhere, Julie Legrand is a godsend as Mrs Malaprop, Lydia's notoriously catachrestic aunt. There's a fluency to her linguistic infelicities — this is a Malaprop who truly has no clue she's talking rubbish. Rhys Rusbatch impresses as Absolute, although Desmond Barrit's performance as his hypocritical father is less finely drawn. Jessica Hardwick glows as long-suffering Julia — even if her accent seems to be commuting between Berwick and Berkshire — but Bishop is diminished beside her. He's not helped by pallid white make-up and a melancholic black costume; the man looks deathly.
Tom Rogers's design usually works to better purpose: the theatrical racks of Georgian costumes on stage recall Pirandello, and the minimalist modern furniture is unobtrusive against glorious 18th-century apparel. The horseplay of Bob Acres, Lucius O'Trigger and assorted servants seems as crude as ever, but hardly matters. True to Sheridan and alive to today, this is a delight.