Birthday Suit at Old Red Lion Theatre, EC1
reviewed for The Times, 18 January 2017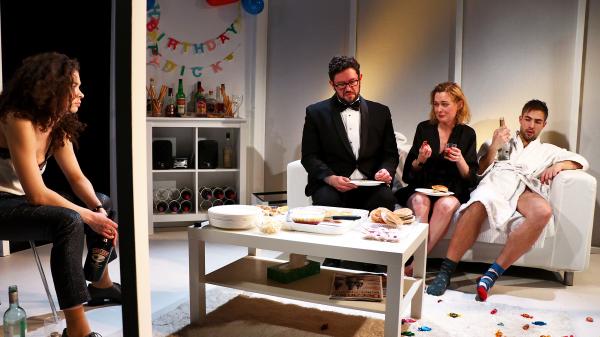 High-flyer Diane has only been with the company a week and she's eager to impress. So she is thrilled when senior office bod Richard (played by Liam Bewley) suggests that she drop by his 40th birthday party on Friday.
Yet Richard doesn't seem sure how to throw a party: a "party mix" CD, ordered online, surprises him with Who Let The Dogs Out?, Britney's Toxic and something by Khia far too explicit to quote in a family newspaper. Diane has her deadbeat boyfriend, Nick, in tow, her other colleagues don't seem to be arriving, and Richard's wife, Valerie, is ominously absent. When Valerie (Emily Stride) does return, she and Nick (Philip Honeywell) turn out to have a shared history.
David K Barnes is best known for his podcast Wooden Overcoats and his writing here is quick and giggleworthy. The obvious precursor to Birthday Suit is Who's Afraid of Virginia Woolf? — and it is particularly derivative at its denouement — but Barnes's comedy also recalls Neil LaBute at his best, with its dark insight into a world of failing men and frustrated women. Diane (EJ Martin) is trying to nudge Nick from Tesco shelf-stacker to alpha applicant for Richard's risk management company. It's one of a series of conceits that are hard to credit, but sets the stage for some well-observed social satire.
What really makes this production zing is a series of strong performances from its young cast. Bewley gives a heartbreaking comic performance as the type of man who hosts an empty house party in a tuxedo and fusses over his imported luxury gin ("like sex without the crying"). Martin unravels like a finely wound coil; Honeywell tugs on our empathy even during a finely humiliating striptease.
Stride has the hardest job, charged with humanising a character who takes too long to develop. Her limited repertoire of pointed glances and lip chewing doesn't help; nor does she give a clear sense of Valerie's age, which might have helped to clarify her particular frustrations.
At their best, however, this foursome all pop with the vitality of Barnes's dialogue. Well worth a punt with a pint.