Cause Célèbre, Old Vic
reviewed for The Spectator, 15 February 2012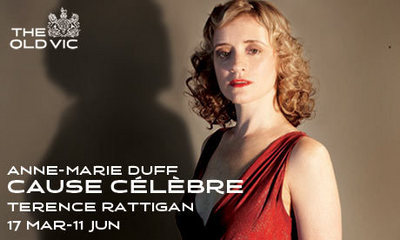 We theatre hacks are running out of superlatives to describe the current flowering of Terrence Rattigan revivals around the centenary of the writer's birth. Notorious in his own day for his ability to dissect the morality of the midcentury Establishment, Rattigan follows in the grand tradition of Wilde and Coward in crafting witty, sexually ambiguous and quintessentially English social dramas, scored through with darker, more urgent concerns with the search for a moral existence.
It would be a cruel irony if this run of productions were to have the effect of lifting Rattigan's oeuvre out of a temporary unpopularity, only to leave it suffering from overexposure. But with revivals as sparkling as Thea Sharrock's airy, effervescent production Cause Célèbre to make his case, odds are that Rattigan will remain a force.
Sharrock never allows the detailed comedy of manners to distract from her task of simply telling a story. This is the story of Alma Rattenbury (Anne-Marie Duff), a woman whose self-indulgent affair with a boy 20 years her junior leads them both to stand trial for the bloody murder of her husband. The real life case really was the cause célèbre of its day – not even the names are changed – but what Rattigan imaginatively fleshes out for us is the effect of the scandal on Bournemouth genteel society, and especially the emotional life of the puritanical forewoman of the jury, the fictional Edith Davenport (Niamh Cusack).
Anne-Marie Duff is luminous as Alma Rattenbury. Not since Cate Blanchett in Plenty, twelve years ago, has the vast Old Vic stage been lit up by such a compelling portrayal of a woman's adventurous pride and sexual fragility.  But Cusack matches her throughout, particularly as she oscillates between lecturing her rebellious son (Freddie Fox) and crumbling before him, her devoted attempt to contain him closely mirroring the power play between Rattenbury and her muscular, childlike lover (Tommy McDonnell). 

Neither woman is initially likable. In the opening scenes, Rattigan brings each of these opposites dangerously close to stereotype, Rattenbury with her selfish hedonism and Davenport with her insistence that everyone around her match her levels of self-denial. Rattenbury's vampish first interview with her chauffeur-lover feels at times like the English country comedy version of a third-tier film noir.
But it's the mark of Rattigan's powers as a dramatist that soon we're being drawn to the frustrated humanity of both women. And even as each becomes locked in the self-destructive patterns of behaviour that stem from an immovable attachment to her own personal philosophy, we still find ourselves gently laughing at the affectionate perspicacity of Rattigan's social commentary.
Where Rattigan's slew of short, disconnected scenes might break the flow of some productions, Sharrock injects structure with the judicious segmentation of the vast stage, so that antithetical scenes appear to play out opposite each other almost simultaneously. She is helped in this by Bruno Poet's superb lighting design. The casting is solid throughout, except for the bit-part schoolboys, who seem distractingly old and tall for their roles. In particular, there's excellent work from Lucy Black as Rattenbury's wardress, and from Nicholas Jones, who does well to humanise the potentially stock role of her pompous barrister.

Cause Célèbre is another triumph for Rattigan's posthumous reputation. But even as it opens at one of London's most high profile theatres, Terry Teachout reminds us that Rattigan's centenary has passed unnoticed in America, where 'none of his two dozen plays, so far as I know, has received a major professional production in the US since I became the Wall Street Journal's theatre critic in 2003'.
Given the rumours surrounding a possible transfer for Sharrock's Olivier-award winning production of After the Dance, that may be about to change. Rattigan's plays have clearly endured, but their biggest test may lies across the Atlantic.