Made In India at the Belgrade Theatre, Coventry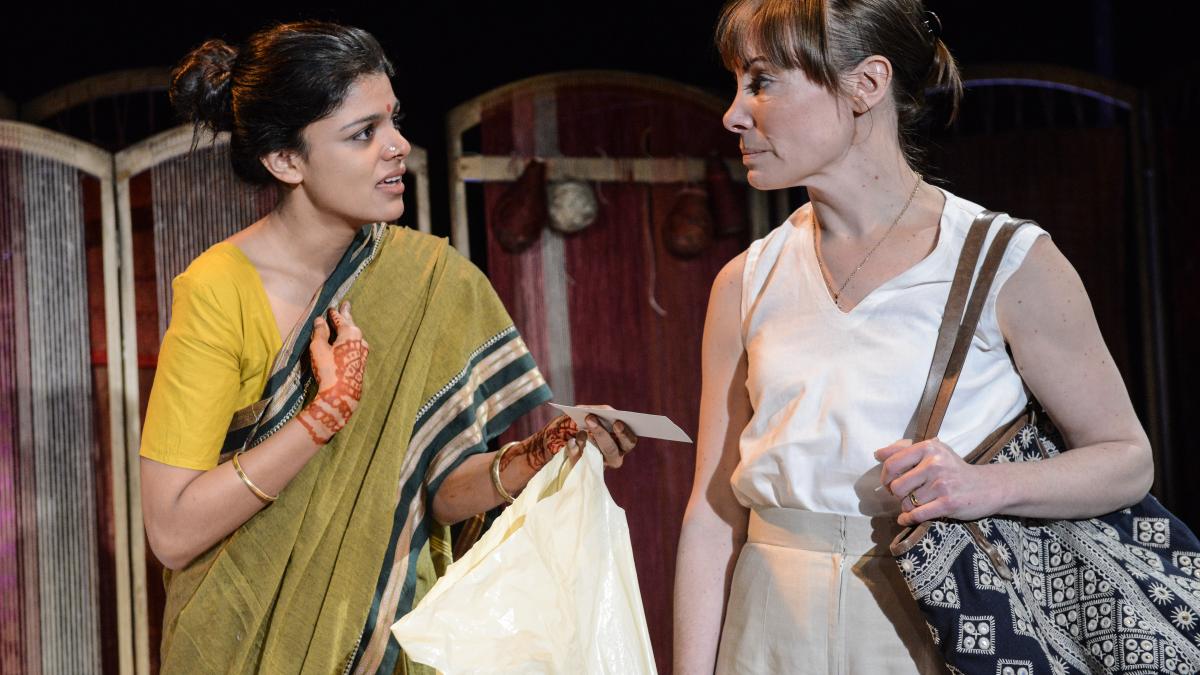 British theatre is getting to grips with the drama of modern fertility struggles. The Young Vic's astonishing reworking of Yerma returns this summer; last June Gareth Farr's tour of The Quiet House deftly explored the strain on a couple undergoing IVF.
Satinder Chohan's new play, Made in India, widens our perspective to take in the international ramifications of the West's fertility panic. Eva (Gina Isaac) has won a court battle to use her dead husband's sperm for surrogacy; in Gujarat she meets Aditi (Ulrika Krishnamurti) and Dr Gupta (Syreeta Kumar). Aditi is a young widow, eager to fund her daughters' futures, while Dr Gupta is a pioneering fertility entrepreneur. Together, they plan to make a baby.
Katie Posner's clarifying direction lifts a sometimes workaday script in this 70-minute trot round the issues. Lydia Denno's design — economical and efficient for a play on tour — juxtaposes East and West, as traditional screens shimmer beneath Prema Mehta's neon arcs of light. We remain in Dr Gupta's clinic throughout, but off stage we catch the noises of a newly confident India as politicians fight over the fruits of an economic boom and Eva's British branding company is reduced to hustling for emerging Indian clients.
Chohan's play is at its best when pointing us towards this new future; there's a powerful extended metaphor about surrogate Aditi's national duty as "Mother India", rearing not just babies but global economic remittances in her fruitful womb. Cash is transferred across continents in exchange for life.
Elsewhere, stereotype too often takes the place of character. Eva is merely as demanding and difficult as any rich white woman in India can be. As Aditi, Krishnamurti gives a profoundly moving performance as her body adapts to poverty, pain and pregnancy. The script, however, hampers her. Chohan struggles to develop a consistent register to mark Aditi's gradual mastery of the English language, and the character's sudden shifts of emotion and understanding condemn her as an ignorant peasant more often than they open her to sympathy. The character of Dr Gupta seems a source of untapped potential.
Nonetheless, Chohan has a rich understanding of the issues at stake. Made in India will move, if not surprise.