Over Gardens Out, Riverside Studios
reviewed for The Spectator, 25 October 2010
Riverside Studios stills owes much of its reputation as one of London's most daring powerhouses of fringe theatre to Peter Gill.  As its founding Artistic Director, Gill inaugurated the Riverside tradition of high-risk commissions from young, experimental troupes alongside the latest international innovators. So now that Gill has entered his eighth decade still a major force in British theatre, it's refreshing to see his old haunt reviving two of his earliest plays, showcasing his writing at its most rebellious and raw.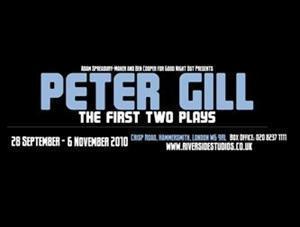 The second in the series, Over Gardens Out, deserves to be recognized as a major step in the post-war movement to put working class life on stage. It's tartly successful as a character study, sketching the web of relationships around Denis, a fey boy in austerity Cardiff: his abusive yet tender companionship with the Borstal-hardened Jeffry, and his frustration with his decent, struggling parents, particularly his ailing mother, whom he barracks with snobbish criticisms yet fiercely seeks to protect. Denis' homosexuality is beautifully understated: never mentioned out loud, it's unlikely that Denis himself recognizes it as the source of his loneliness and confusion. In the opening scenes, Denis' teenage strops seem so petulant as to be entirely alien – his torture of his mother is unforgivable – but the relationship softens into something captivatingly subtle. This owes much to Kirsten Clark's truthful, nuanced performance as Mother. Talented newcomer Meillir Rhys Williams takes full command of the space as Denis, but he never quite succeeds in making Denis likeable.  It's not really Rhys Williams' fault :  Gill only gives Denis lines of complaint. When he's critiquing his mother's coat or his father's shoes, we almost expect to hear Matt Lucas burst in, complaining that he, not Denis, is the only gay in this village.
But the strength of this production lies in Sam Brown's stark, clarifying direction. Brown infuses this production with the sense of claustrophobic surveillance, a threatening world of watchful neighbours and minimal privacy which perfectly evokes the average teenage nightmare. Yet he never loses sight of Gill's capacity to write human tenderness. It's the combination of these two elements that give Calum Callaghan's Jeffry moments of profound resonance: whether he's hopelessly clutching a fretful baby, or rounding on Denis with his belt, his is a compelling portrayal of brutality masking a yearning for intimacy.
So it's a shame that all these rich characters are given little narrative to pursue. Over Gardens Out is a superb psychological sketch by a young writer, but Gill would wait a few more years before developing similar characters and motifs into dramas as complex as The York Realist. Over Gardens Out is rather like a brilliant short story which has the final page missing. Full of potential, but awaiting the final twist.