The Doppel Gang at Tristan Bates, WC2
reviewed for The Times, 20 January 2017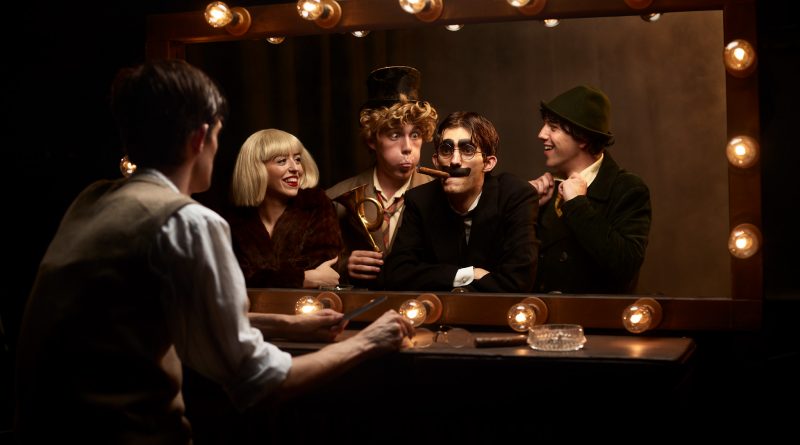 Great collaborations are often spawned at drama school; so too are the most foppish of flops. The programme note for The Doppel Gang tells us that as drama students at the University of Central Lancashire, Peter Stone and Jake Urry enjoyed a physical comedy module for which they re-created classic Marx Brothers sketches. A few years later they commissioned the playwright Dominic Hedges to write a narrative that could make the most of this specialised skill.
Hedges has done these young performers a disservice. Lurking in the shadows of The Doppel Gang we catch the odd glimmer of delightful clowning. Any onstage talent is obscured, however, by Hedges's turgid excuse for a storyline. Amid the London Blitz, a crew of failing music hall performers happen upon a treasure trove of unpublished Marx Brothers material — Winston Churchill's improbable time capsule? — and determine to perform it. The conceit might be bearable if Hedges didn't take all of a tedious first half to establish this doddering framing device.
The transformative powers of our young cast are impressive, if you can bear the continuous cod-1940s accents. Jordan Moore, who joins the team as a Groucho impersonator, captures the menacing undertone to the Marx Brothers' universe; Stone is polished as a wastrel forced to take on the role of Harpo.
Rachel Hartley has an unenviable role as the troupe's token girl, with enough chippy grimaces and clichéd historical outbursts to put a Downton Abbey chambermaid to shame. ("Yer know what they say about Yanks: oversexed, overpaid and over 'ere.") She is supposedly involved in a passionate affair with Stone's character, despite the absence of sexual chemistry.
By the show's finale, we get to enjoy a decent tribute to the Marx Brothers' shop sketches, but dig up a few YouTube clips of the originals and you'll have more fun.