Theatre That Changed My Life, Week 2: Joanna Laurens' The Three Birds (2000)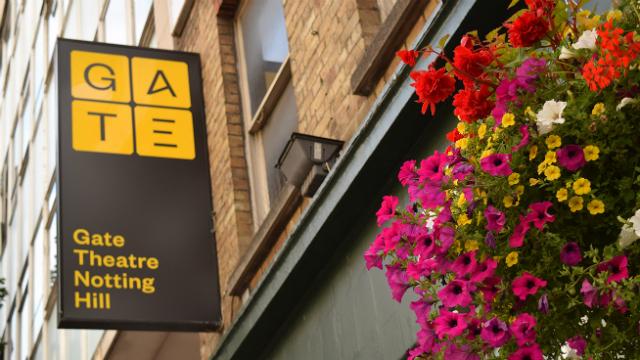 Last week, I started this series by writing about the National Theatre. Panto aside (yuck), when you're taken for the first time as a young person you're often taken to the big theatres: the NT and the RSC were the two powerhouse portals in the late 90s.
By contrast, I'm going to write about a tiny theatre that changed my life. The Gate was one of London's first pub theatres, established in 1979 when the American director Lou Stein moved to London and found himself hungry to recreate the off-off-Broadway hangouts of Greenwich Village. By the turn of the millennium, the Gate was the place you could talent-spot the future of British theatre a decade before everyone else cottoned on. Stephen Daldry had been artistic director in the early 90s; Sarah Kane's Phaedra's Love premiered here in 1996 under the directorship of David Farr; Erica Whyman would take over in 2001.
It's still often ahead of the curve. In spring 2015, we saw Letitia Wright make her stage debut here in Danai Gurira's Eclipsed, a profoundly moving play set amongst women's experiences in the Liberian Civil War. In 2016, the Broadway production of Eclipsed would star Lupita Nyong'o and win Gurira a Tony nomination for Best Play. But the Gate had shown it to London first.
The Gate was and remains cramped, counter-intuitively oblong-shaped and dangerously inaccessible at the top of a vertiginously narrow staircase. When I was a teenager, the sheer physical awkwardness entailed in gaining entry was part of the thrill. ('It's not authentic pub theatre if the loos flush'.) We've all now come to recognise (or should) how much those attitudes exclude those with limited mobility – the modern Gate is putting huge amounts of effort into improving access to its work. Back then, however, sustaining ligament injury in the cause of cutting-edge theatre going was incomparably cool.
The work was cool too: the Gate had a long tradition of exposing London to the latest European new playwrights, one which current AD Ellen McDougall has revived. And the narrow, rectangular shape of the theatre space forced creativity out of young designers: there's no 'right' layout for actors and audience. Every time I visit, the space feels like it's been reinvented: I've seen it as a catwalk, a cabaret bar and a church nave. The closing moments of The Unknown Island (2017) featured the reveal of a window in the back wall, which despite nearly 20 years of visiting I had never before seen.
But the playwright I think of first, each time I visit the Gate, never hit the bigtime. She was supposed to. In October 2000 Joanna Laurens' The Three Birds opened here, and shortly afterwards it won her the Critics' Circle Theatre Award for Most Promising Playwright and the Time Out award for Most Outstanding New Talent. The Three Birds was a re-exploration of a story on which both renaissance poets and 20th century feminists had dwelt heavily: the tale of Philomela, raped by her brother-in-law Tereus, her tongue cut out to silence her, who from captivity smuggles out the story of her plight to her sister Procne by weaving a narrative tapestry. One of Laurens' personal touches was to focus on the sisterhood between Philomela (a childlike Syan Blake) and Procne (Sharlene Whyte). When it is told by men, Procne is usually a peripheral figure in this story.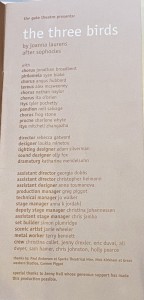 Laurens' mythic characters spoke in idiosyncratic, fragmented verse. That, above all, is what sticks in my memory. It made The Three Birds like nothing my fourteen-year old self had seen in the theatre before. Laurens' note in my hoarded programme reminds us that although the tale of Philomela is known best from Ovid's Metamorphoses, an earlier play by Sophocles called Tereus was once the toast of Athens, surviving now in fifty-seven fragments. Laurens was interested in how stories are silenced – as her play continues, words drop out of her characters' sentences, gaping holes in their speech patterns, almost as if they are remembering only fragments of a fuller play. We were watching an ancient story become lost in transmission.
The Three Birds was about language. It taught me, at fourteen, that theatre was about language; that this new art form was an extension of literature, which I already cherished. It is also about foreignness and feeling your foreignness expressed as language. In this story, Procne is an Athenian princess sent to far off Thrace in an arranged marriage. Laurens developed a set of specific speech patterns for Procne and her sister Philomela which felt natural and glorious in the earlier Athenian scenes, but set against the 'Thracian' dialect of Tereus sounded stunted and alien. As Lyn Gardner wrote in her Guardian review: 'the intimacy of the sisters is depicted by a shared language that is delicate, joyous, and so private it is almost autistic. When Procne finds herself alone and unloved in Thrace she sounds foreign.' Remembering her arrival by boat, Procne tells Tereus 'Five years back youme seawalked here'. It is the broken language of an immigrant, easy to wilfully mishear.
Many of the audience had encountered Ted Hughes' Metamorphoses translation, Tales from Ovid, which was staged in an adaptation by the RSC in 1998. It was thoroughly Roman – not just the sex and bloodshed, but its sense of a long narrative poem. Throughout The Three Birds, we were constantly reminded us that this story was a Greek play before it was a Roman poem. This being the Gate Theatre, the seating layout was transformed once again: director Rebecca Gatward arranged the audience in the semi-circular layout of the Greek theatron. A classical chorus of five performers kept up a running, disunited and discordant commentary as they jumped in and out of the time frame of the principals. They too, squabbled in different languages as they struggled to overcome linguistic barriers – snippets of Anglo-Saxon, Proto-Indo-European, Irish, Welsh and even the distinctive Norman-French associated with Laurens' native Jersey. It was unabashedly intellectual – some might have said pretentious – which is no doubt why I loved it. But it was also thoroughly British. Reviewing a Brooklyn production of The Three Birds two years later, the New York Times critic Wilborn Hampton complained that comparing Tereus' lust to 'the want of a pint after closing time' was ineffective. I think the Brits all knew exactly what it meant.
The British critics had loved Laurens' debut play. After a slew of rave reviews for The Three Birds, her second, Five Gold Rings, opened at the Almeida in 2003. It was widely over-briefed and over-promoted by an excited Almeida: the publicity material compared her to Sarah Kane. (Because there's a healthy association for any young woman.) An interview with The Times arranged by the Almeida began with the words: 'at 25, Joanna Laurens is shaping up to be Britain's next major playwright.'
The result was carnage. A target had been painted on Laurens' back. In a rare later interview with the writer Hannah Silva, Laurens said: 'Everyone gets bad reviews – but there is a bad review, and then there is a review whose agenda is your annihilation. The latter is not common, not from multiple critics at once.' But though many critics were negative of Five Gold Rings, it was Charles Spencer who really went for Laurens' career by the jugular. Riffing on an image from Laurens' verse – 'freshly squeezed birdsong' – he dismissed it as 'freshly squeezed bullshit.' It's worth listening to Spencer on the subject in this recorded Theatre Voice conversation with Kate Bassett and James Inverne. Bassett and Inverne both have their criticisms, but suggest Laurens still has serious potential: Spencer insists: 'I think that you're all taking this play far too seriously; I think that she's just really piss-poor.'
So what went wrong with Five Gold Rings? Over-exposure, in part. In part, it simply wasn't as good a play as The Three Birds. The original story of a modern family suffocated by sexual dysfunction, it was personal in scope rather than mythic – and perhaps just too mundane in its material to justify grandiose experiments in verse. (Although, with a touch of Caryl Churchill, a patriarch's house was slowly being swallowed by the sand of the desert.) Without a mythic framework, the actors, most of whom were much higher-profile than those employed by the Gate for The Three Birds, seemed much less comfortable with speaking verse. When I spoke this week to Katherine Mendelsohn, Laurens' dramaturg, she pointed out that of the Almeida's cast, David Calder did best with inhabiting Laurens' language – and that it was no coincidence he was the actor with the strongest background in Shakespeare. Laurens' language is elaborate and anti-naturalistic; Damian Lewis and Helen McCrory approached it as if they were in a prose family soap-opera.
But what really doomed Five Gold Rings was that it was reviewed by first-string critics, most of whom hadn't been assigned to review The Three Birds. As Laurens notes in her interview with Silva, 'Many critics sent to review The Three Birds were not the 'number one' critics of the various papers, but were probably 'number two' critics: I was an unknown playwright, the Gate does not have the same status as the Almeida, we did not have any stars in the cast.' Billington, nonetheless, found time to see The Three Birds, and it was he who was kindest in his review of Five Gold Rings: 'It's an experiment that doesn't always work; but Laurens has a distinctive voice which [we] will assuredly hear more of.' Spencer, on other hand, had not seen The Three Birds, as he admits in the Theatre Voice recording. It was Spencer who, when Laurens' third play Poor Beck premiered soon after at the RSC's New Work Festival, asked if she could 'now do us all a favour by taking a prolonged vow of silence?' And it was Spencer, not Billington, who got his wish.
The Three Birds was one of the plays that made me become a theatre critic. (As well as being part of the reason I studied classics at university, part of the reason I directed a student production of Tales from Ovid; part of the reason I am a feminist.) I was also, when I was reviewing regularly, a tough critic. I've always talked about the importance of punching up, not down (i.e. Benedict Cumberbatch should be held to the highest standards; a recent drama school graduate needs as much benefit of the doubt as possible) – but looking at the way Laurens was shot down as soon as she graduated beyond the fringe has left me uneasy about whether that's a good enough defence. The Three Birds had won two major writing awards for Laurens: to many people she seemed to have 'made it'. But clearly, she was still vulnerable, and cruelty from critics destroyed what should have been a major career.
Incidentally, it still infuriates me when theatre PRs won't make tickets available for active critics who haven't been assigned to review a particular show. You can't do justice to an artist unless you're familiar with their entire body of work – as the Laurens debacle shows.
In the twenty years since The Three Birds, I've kept looking out for new verse dramas. Glyn Maxwell, Mike Bartlett and Anders Lustgarten have had some success, but Britain remains wary of the form. When Laurens was writing, critics seemed unable to classify her, beyond vague references to 'anti-naturalism'. As she wrote for the Guardian: 'We all know what naturalism in theatre means. […] But what is non-naturalism? How can we define something that is a negative, defined by the fact that it's not something else? The fact is, non-naturalism is a false category, a category hiding lots of other forms, which we fail to see because we don't have the words for them yet.' It is striking that Laurens' plays have been performed with much more success in Germany than in the UK.
I always thought Laurens was working in the tradition of lyric poetry. Her characters are fluent in the disordered syntax of love song. 'Lost is the time of love you, love you', says a character in Five Gold Rings confronting a frigid marriage. Even Tereus is a poet of love – in contrast to Timberlake Wertenbaker's version of the same story in The Love of the Nightingale, Laurens' rapist is more tortured than brutish. ('But my life is light of woman / and when she, when Philomela, / laughs each sound is a catstep on piano keys.')
Maybe, as Charles Spencer would have it, this is all very teenage. Maybe, that's the only reason why, as a young teenager, I lapped it up. But twenty years later, I'm still thinking about it. I'm also continuing to go to the Gate – which as a tiny theatre will need all the support it can get to survive the current crisis. If this has reminded you of great theatre you've also seen at the Gate – or you simply enjoy my theatre writing – I'd love it if you could donate here.